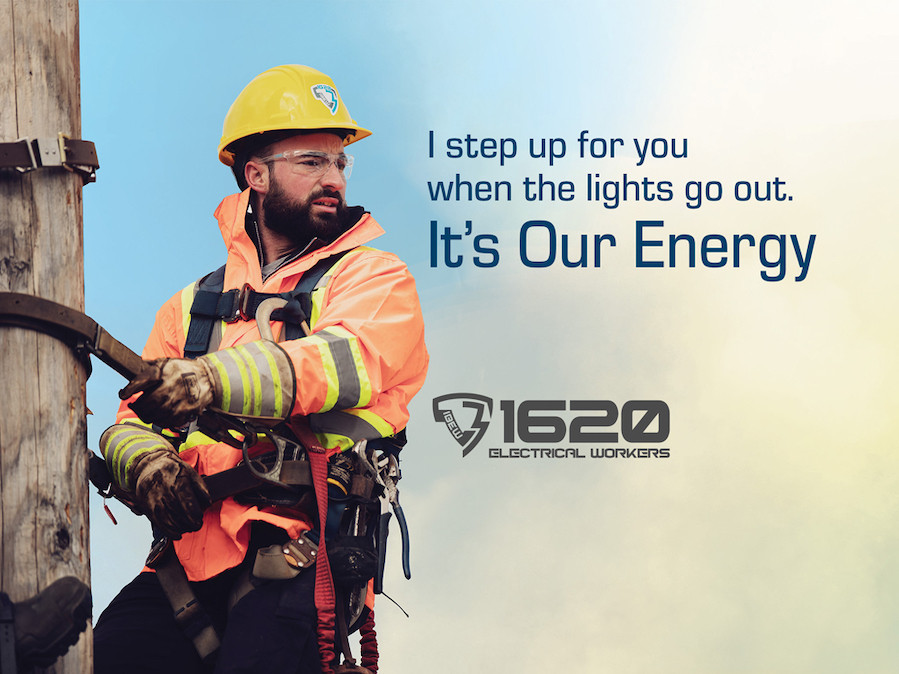 1620 Electrical Workers (IBEW)
To shine a light on the valuable work that 1620 Electrical Workers do for the province, Pilot° worked closely with representatives from the union to create a multi-media campaign to promote, strengthen, and differentiate the 1620 brand.  
IBEW 1620 faced difficulty raising public awareness, differentiating the union from other IBEW chapters, and strengthening member engagement and employer relations.  
The campaign objectives aimed to build public awareness for 1620 and the valuable work they do for their communities, position 1620 as a reliable, credible, and professional union; strengthen member engagement and strategic relationships with employers; and differentiate 1620 as a proactive union that is different from other IBEW chapters.  
To achieve these goals, the campaign needed to reach the widest possible audience; use relevant channels to resonate with target audiences, media tactics that encouraged engagement and the sharing of content; and make it easy for the audience to find the campaign website to learn more about 1620.  
To produce the strongest campaign possible, Pilot° ensured members of 1620 Electrical Workers were represented in the campaign material every step of the way.  
The "It's Our Energy" campaign aimed to make an emotional connection with union members and audiences and a functional connection with the government and employers. 
The campaign message "It's Our Energy" celebrates the commitment 1620 Electrical Workers have to their work, their union, and their province; and the pride 1620 workers take in their work. 
To resonate with the identified target audiences, the campaign took a multi-media approach: including out-of-home (OOH) ads, television commercials, digital ads, and social media marketing tactics. The material produced for this campaign included 30- and 15-second ads, digital billboards, animated explainer videos, member vignettes, professional-quality photos, and social media ads.  
In alignment with the goals of the campaign, all photos and videos produced for the campaign featured real 1620 members.
"It's Our Energy" successfully raised awareness for 1620 as demonstrated in the 6.7+ million digital impressions generated by the campaign. The campaign also saw over 600,000 completed video views, 5,900 social engagements, and 8,647 website visits: with an average visit time of 3 minutes and 38 seconds.  
Released in two flights, the campaign also effectively increased brand recognition between the first and second flights. Such success is evident in the video watch rates, click-through rates, and website visits during the second flight.  
The campaign has resulted in continued social media engagement, community engagement and recognition, and member engagement.