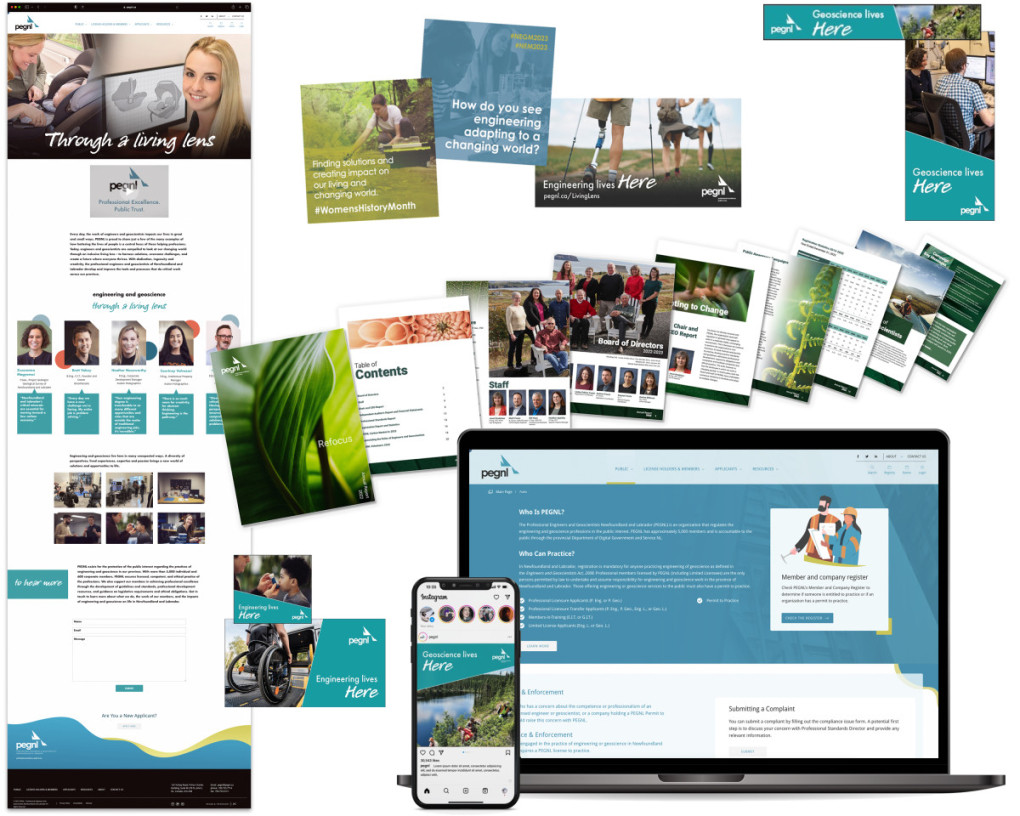 Professional Engineers & Geoscientists of NL
Mandated through provincial legislation to regulate the engineering and geoscience professions in the public interest, Professional Engineers and Geoscientists of Newfoundland and Labrador (PEGNL) wanted to strengthen communications with their members and the public for the purposes of increasing understanding of their overall value. PEGNL's goals included improving public understanding of the depth and breadth of these professions and increasing awareness of how registered Professional Engineers and Geoscientists impact peoples' daily lives. With recruitment into these professions waning, these same messages were seen as a way to achieve goals around accessibility, diversity, and inclusivity. 
Discovering the Campaign 
We asked ourselves: What are the prevailing understandings of the work of PEGNL members? What is the public's level of understanding of this work? And finally, through what lens must we view this work and PEGNL professionals to understand the scope of their impact and roles? 
Pilot° envisioned a creative campaign that would underscore PEGNL is more than a regulator enforcing rules. Their campaign would challenge the stereotypical impression of engineering as male-dominated and focussed on construction and larger industrial projects. In consultation with PEGNL, we dove deeper into their goals and conceived an integrated set of campaign tactics to break down misconceptions, reach the public, encourage positive engagement with members, and strengthening brand awareness.  
The Campaign Concept  
Through an iterative process of ideation and collaboration, the creative concept Engineering and Geoscience Through the Living Lens was born. This was further bolstered by the tag lines "Engineering Lives Here" and "Geoscience Lives Here." 
More than just highlighting the contributions of engineers and geoscientists to environmental and ecological fields, the "Living Lens" asked viewers to appreciate their fluid, adaptable, evolving work. The campaign focuses on the impact of an engineering feat or geoscientific discovery on everyday individual lives. Then it shows the unexpected processes of thought, passion, invention, and creativity that led to these relatable impacts.  
Through this narrative, Pilot° tangibly demonstrated these fields are more than bricks and mortar, bridges and safety, mining and breaking rocks. They are a collaboration of entrepreneurs, experts, and professionals who use their unique training, perspective, hard work, and skills to create solutions necessary for our changing world. Through the inclusion of video vignettes of real people, we featured a range of faces, helping a more diverse population understand the satisfaction these careers offer and visualize themselves as part of this professional community.  
Our Creative Toolbox 
Initially, Pilot° supported PEGNL with a four-month Professional Social Media Services retainer to lay a foundation of consistent and engaging posting for their online audience. At the launch of the campaign, we built a creative toolbox of direct, emotionally compelling collateral ranging from TV and Out of Home advertising to online featured video vignettes and digital ads all consolidated under a Living Lens landing page on their website.  
Pilot°'s social media training program contributed to an overall growth of 13%, 86%, and 30% on Facebook, Instagram, and LinkedIn, respectively. Pilot°'s work in consultation, training, and strategy development has helped create a stronger sense of messaging and positioning internally at PEGNL. Pilot°'s vision of the campaign is reflected consistently throughout their collateral, including their 2021 and 2022 annual reports.  
The campaign preformed 312% better than initially estimated. PEGNL's membership proved an active and engaged audience, outperforming projected numbers with 102,000 clicks. The campaign also reached other wide audiences, achieving 7.1 million impressions.  
Specifically, campaign videos received more than 92,000 views and social media, digital and static images produced more than 96,000 page views.