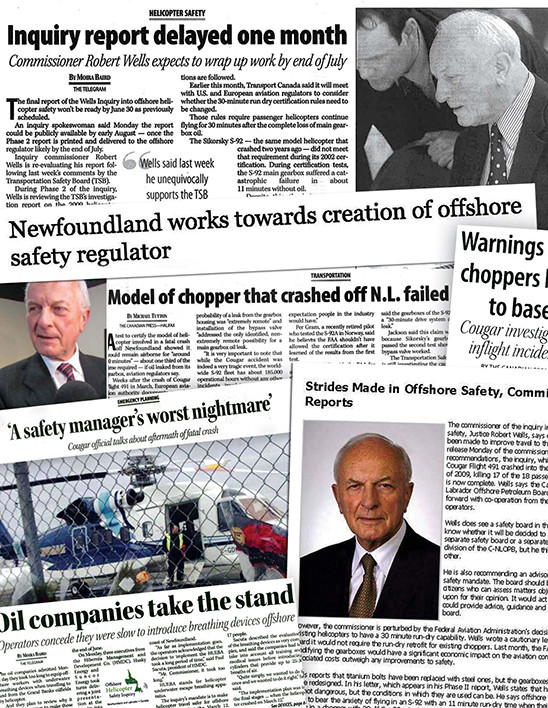 Offshore Helicopter Safety Inquiry
Launched in response to one of the province's worst offshore tragedies, the Inquiry into Matters Respecting Helicopter Passenger Safety for Workers in the Newfoundland and Labrador Offshore Area needed communications and media relations support to help steer the proceedings in an emotionally-charged atmosphere.
To assist in giving the Inquiry a public presence, Pilot° first developed a simple yet credible brand that clearly communicated the mandate of the Inquiry.  Gone was the 16-word title, replaced with the clear and concise Offshore Helicopter Safety Inquiry.  A logo was created to complement the new title which also served an appropriate visual for use across a variety of media.  Pilot° is providing strategic communications support, including developing policies and protocols that function in such a hyper-sensitive environment of intense local and national media interest.  In support of these protocols, Pilot° is managing media relations, both on site and off, including media access to witnesses, advising on set-up of the media room, and dealing with off-site inquiries and referrals to other parties with standing.  Pilot° also advised on website content, and continues performing extensive media monitoring, analysis and strategic advice.
Pilot°'s direct handling has brought about positive relationships between the Inquiry and the media, key partners and the general public.  Any potential for sensationalism has been effectively mitigated, and the Inquiry is being allowed to fulfill its mandate of pursuing a sober and thorough examination into this tragic incident.  Pilot°'s work on this project continues.