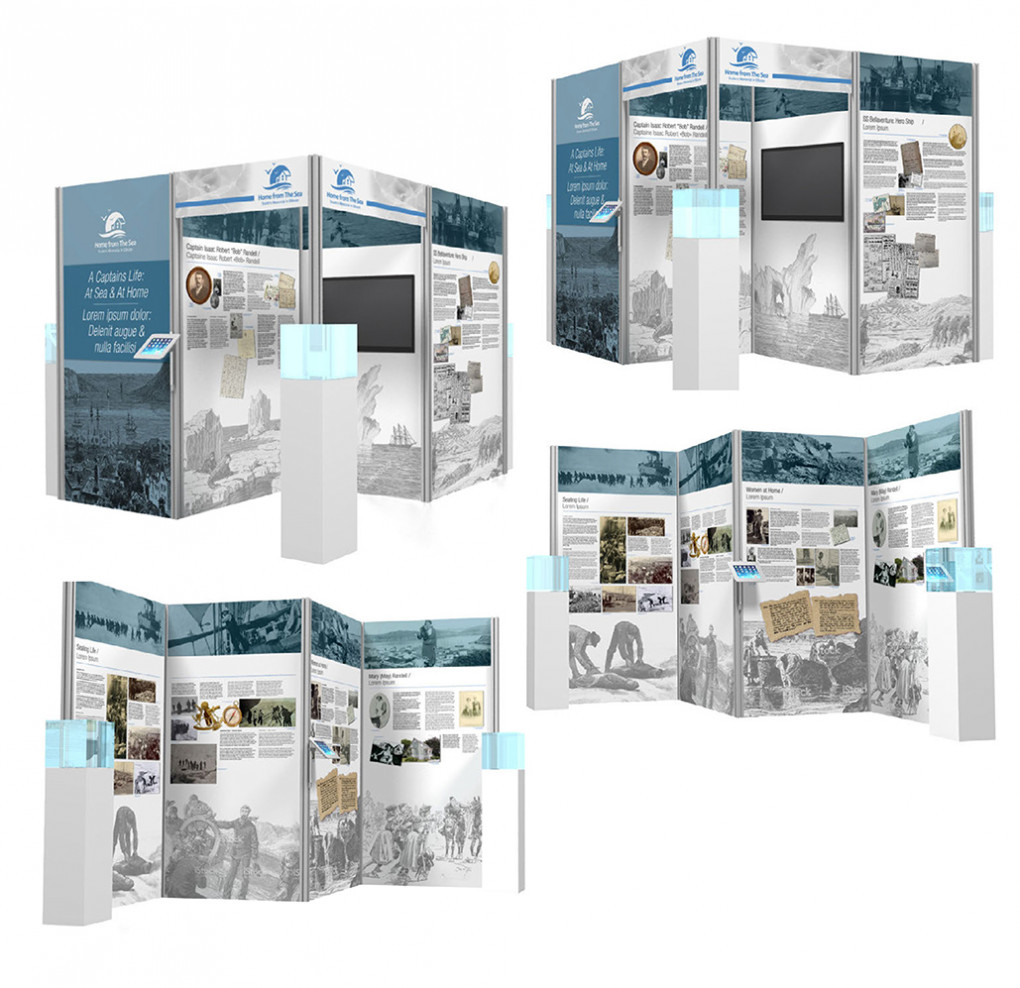 Home From The Sea: A Captain's Life, at Home and at Sea Touring Exhibit
The completion of the Home from The Sea Capital Campaign saw the building and opening of a world-class sealers museum in Elliston NL. Buoyed by its success and positive visitor response, the Board wanted to extend the experience by creating a touring exhibit. Four components were envisioned that would build upon the themes within the permanent exhibit. Together, they would extend audience reach, create new visitor experiences, and expand educational opportunities.
To create a new and compelling touring exhibit, Pilot reviewed the themes present in the permanent exhibit. After much research and consultation, the theme: A captain's Life, at Home and at Sea evolved. Captain Randell was a natural choice: he was born and raised in Port Rexton, just a few miles from Elliston, the home of the John C. Crosbie Sealers Interpretation Centre. We worked with the NL Archives, the Rooms and the family to discover the elements that would bring vibrant stories to life. Our research and consultation uncovered a number of themes. These included aboriginal traditions, stories of sealing masters, sealing vessels, training for service in navigation and seamanship, implications of new technologies, and family life and survival.
The stories were designed to engage and inform visitors and others in a variety of ways, including through educational outreach programs. Told through textual, visual and multi-media components, they would invite comparison between traditional and contemporary culture, focusing on the lives of individuals, families and communities that were sustained by sealing for generations. In a larger sense, we wanted to use captivating storytelling underpinned by accurate information to reveal to diverse audiences the role of sealing in the sustainability of our culture and economy. A large part of our purpose was to create resources that would serve to educate future generations.
The exhibit is world-class. While Covid-19 prevented its launch in 2020, it will now launch in the summer of 2021. Pilot created a marketing and communications plan to reach a wide audience, both new and returning, to the John C. Crosbie Sealers Interpretation Centre, and beyond to the many sites around the globe who can now avail of a travelling exhibit to share the museum's stories. This expanded capacity and larger audience engagement will now provide ongoing sustaining funds for Home from the Sea, through new visitation and global exhibit rentals by other cultural and educational institutions.