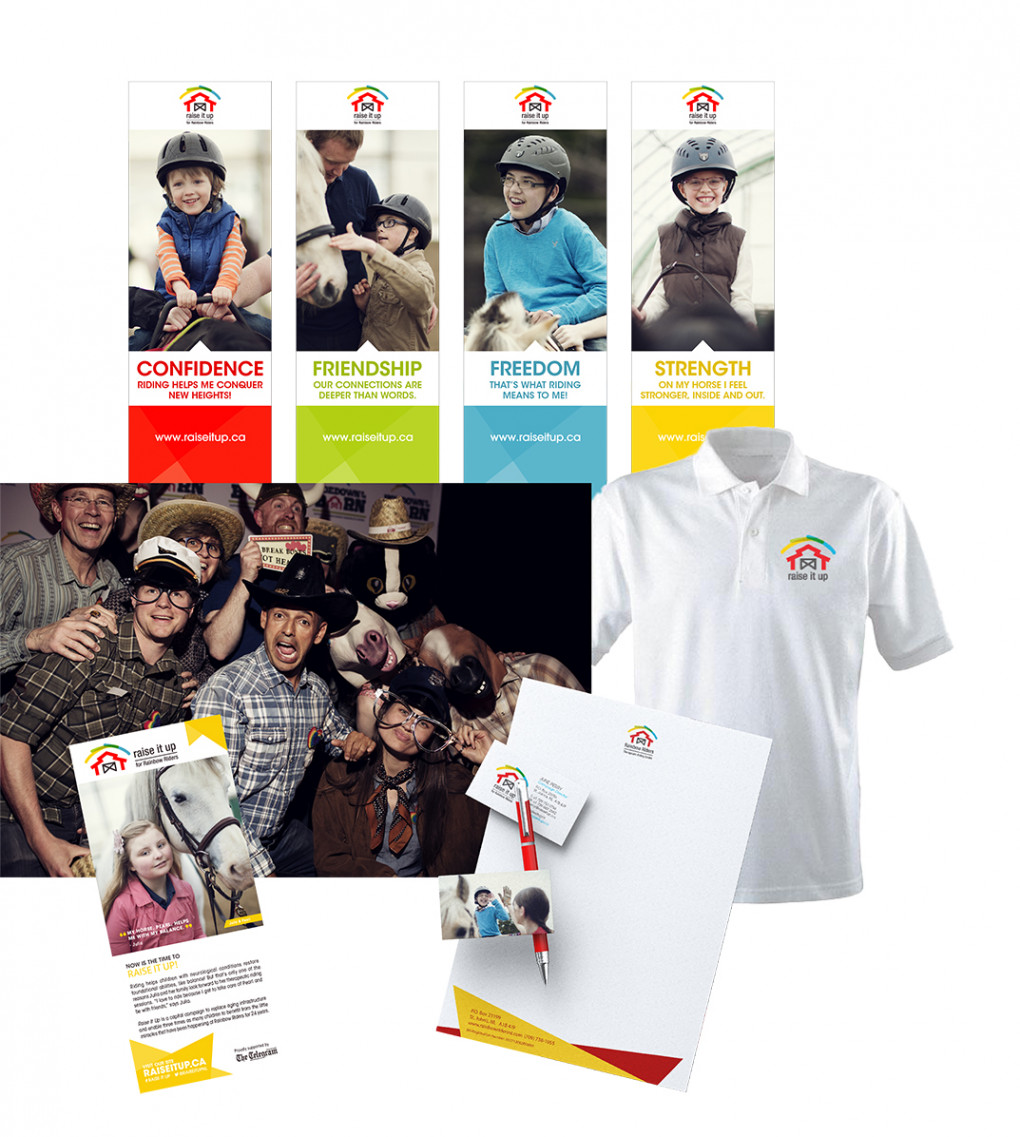 Rainbow Riders – From Hoedown to Codown
Following completion of the "Raise It Up" capital campaign which Pilot° orchestrated to construct a new $6.5 million facility for Rainbow Riders, the organization needed operating dollars to expand programming that would reach more kids with its therapeutic riding program at affordable rates. Pilot° was commissioned to develop an annual event that would provide these funds, and in the process, develop a base of supporters in the community.
With a big red barn and a huge riding arena available, the next step was the development of a creative concept to attract people to see Rainbow Riders' good work and to have "a time"! Staying true to the Rainbow Riders community, Pilot° developed the overall creative concept and event strategy/plan. After the concept "Hoedown in the Barn" was unanimously approved, we developed branding and collateral for the website, along with brochures and signage. Pilot° oversaw all event logistics: invite lists, catering, media buying, videos and online content, brand development, the sponsorship package, site décor preparation, and overall advertising and promotion. Having 500 Big Mary's delivered to the barn at midnight was the final feat!
2020 presented our team with a unique challenge. The COVID-19 pandemic prevented the Hoedown, which had been such a success the previous year. After extensively researching best practices for virtual events, our team got to work! In the end, a virtual event, renamed "Codown Not in The Barn", took flight. From a central hub, we hosted a night full of boot scootin' fun at Spirit of Newfoundland Productions that was streamed live on multiple Facebook sites, reaching over 130,000 worldwide. We simultaneously led numerous strategic fundraising initiatives, including a virtual silent auction on Handbid and Text-To-Give online donations, as well as hosting small-scale viewing parties on event night to engage supporters to give back. Pilot° secured media buys, earned media interviews, promotional opportunities on both social and traditional media, and facilitated all elements of the event.
Revenue generated: Approximately $161,000
In its first year, Hoedown in the Barn was a huge success, exceeding sponsorship and attendance targets and meeting its fundraising goal. As difficult as it was to accept that 2020 would not permit an encore in-person party at Rainbow Riders, Codown Not in the Barn proved to be equally successful, raising more than double the projected net revenue. The broadcast event at Spirit of Newfoundland went off without a hitch, and the six satellite parties were fantastic with lively line dancing. Deliverables were made on time and under budget, resulting in increased revenue for Rainbow Riders. We reached more supporters through our virtual efforts than we ever thought possible, positioning Hoedowns in the Barn for greater success for years to come.