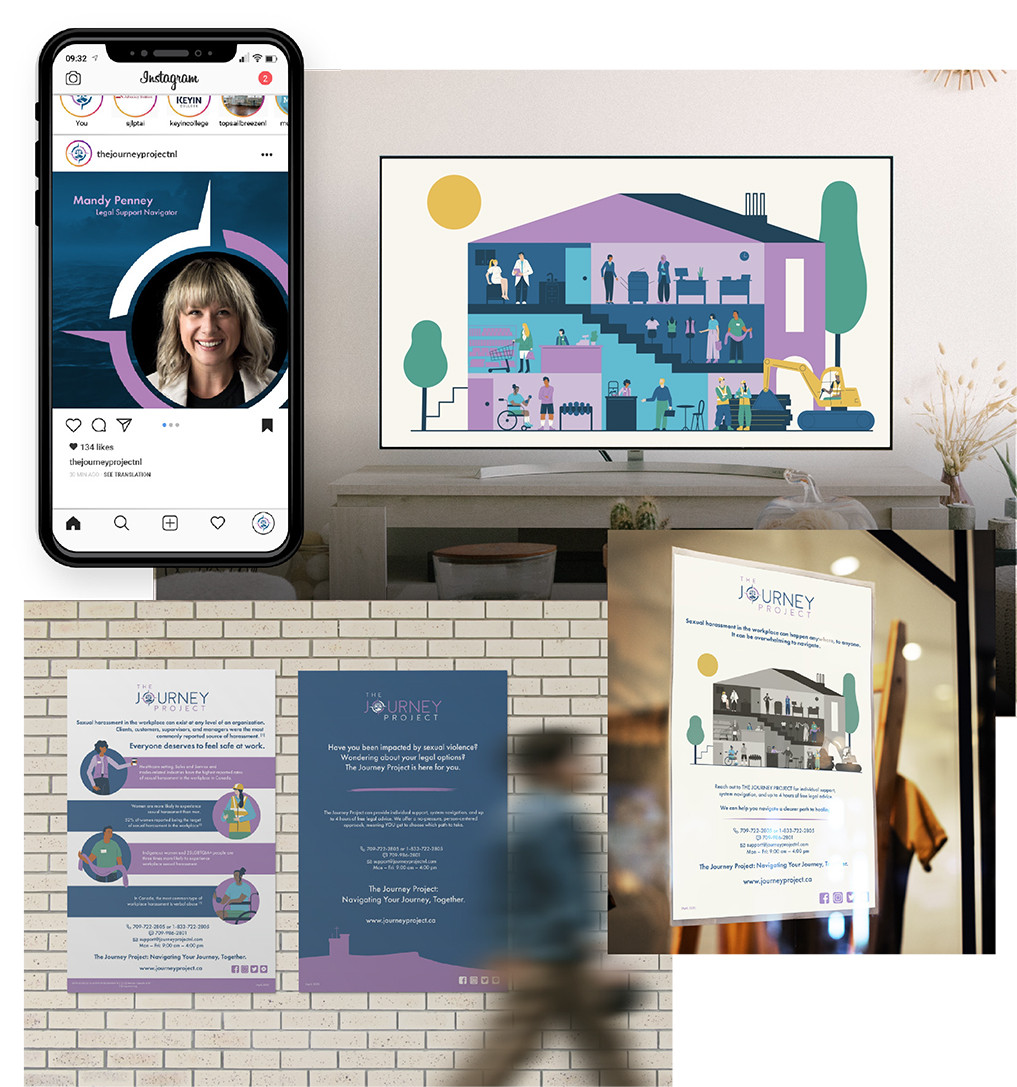 Public Legal Information Association of NL (PLIAN); The Journey Project
The Journey Project (TJP) was born out of an ongoing partnership between Public Legal Information Association of NL (PLIAN) and the Newfoundland and Labrador Sexual Assault Crisis and Prevention Centre (NLSACPC). The Journey Project was created to offer legal support and navigation/advice to anyone 16 + who has experienced sexual violence in Newfoundland and Labrador. TJP has created a simple yet robust support system for those who need it. In order to encourage survivors to utilize the service, there was a need to ensure the Project is positioned as an accessible, credible and safe place where there is zero pressure to take any specific action. 
Campiagn Priority One: Strengthen Awareness of Sexual Harassment 
Objectives: raise awareness that sexual harassment can come in many forms and be interpreted differently for everyone; increase understanding that the Journey can be simplified and customized to fit a survivor's wants and needs; strenthen awareness about the supports offered by The Journey Project and the ease in which people can access these supports; and increase the number of survivors who reach out for support, advice or legal council.
Campiagn Priority Two: Promote Educational Platform for Employers 
Objectives: strengthen awareness of education platform for employers; promote value of education and awareness for employers as a tool to protect their employees and themselves; and demonstrate the importance of a safe work environment from a recruitment and retention angle through messaging. 
To develop and implement a marketing and communications strategy to strengthen awareness about the Journey Project and the value the organization adds to the local community, specifically due to the prevalence of sexual harassment in the workplace.  
Given the sensitive nature of the topic and understanding that individuals who have experienced sexual harassment were one of our key target markets, Pilot took time to gain a solid understanding of the demographics and ensure non-triggering language and imagery was identified. In speaking with TJP team members and using evidence-based research, Pilot developed a target audience analysis, SWOT analysis, and campaign strategy which included key messaging, campaign concepting, a storyboard for the advertisement and subsequent collateral.
Once a script was completed, an animated video ad was produced using TJP brand colours and diverse, inclusive character drawings. Soft lines and strategic sound engineering ensured the right message was conveyed in a way that would not offend or exacerbate vulnerable audiences. Accessibility was top of mind in both creative concepting and execution, ensuring captions and easy to follow VoiceOver was included so that individuals of all abilities could view the campaign with ease. A version of the ad was created for social media, and a shorter (but still impactful) version was created for a local media buy. 
In conjunction with the ad launch, a strategic and well-timed social media strategy was implemented for both pre and post launch, to create engagement and garner excitement. This included graphically designed shareables and posts which encouraged engagement and directed people to visit the newly designed website. Social media content included contact information, TJP team bios and various "Did you know" facts. 
With an educational platform for employers near completion, the campaign ensured ample "teaser" messaging for this service and value propositions for employers around the importance of creating safe workplaces and how that is important for employee relations and productivity. 
The campaign launch also included a full traditional media strategy. With the dissemination of a press release and media call-around, TJP received an incredible amount of earned media through various media platforms. The value of this earned media was monumental. 
 
The Journey Project has received a massive increase in visitors to their website and social media platforms. The local media have shown a great interest in the recent campaign, resulting in coverage from all media outlets, which has increased awareness about TJP and their services. 
The ad and various social media shareables have also received a lot of engagement. Shares and Likes are regularly increasing, which tells us that this campaign is generating real interest. 
Originally the Journey Project had a somewhat muddled brand identity, due to the two parent organizations that created and contributed to it. This campaign has given TJP a strong and recognizable brand identity and voice which allows it to exist and grow to its full potential. 
Overall, survivors of sexual harassment and violence will have a clearer path to healing, now that awareness of The Journey Project has been strengthened and accessibility has been elevated.